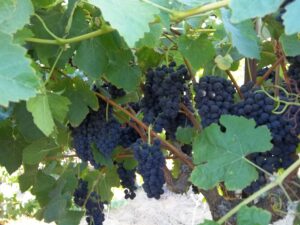 ABOUT BUNTER SPRING WINERY
Bunter Spring Winery is a small family operated winery in the Coombsville AVA in the southeast corner of Napa Valley.  We also have some production in Monterey.  Most vintages we make a few hundred cases of wine, mostly for ourselves, but also for sale to friends on our mailing list, and a few restaurants and wine shops.  Why make wine?  We just don't care for many of the wines sold today. We make the kind of wine we want to drink: balanced, interesting, made with few or no additives, and low or no sulfite. We list all ingredients, the actual sulfite level, and the actual alcohol level on every label.  Incredibly, NO OTHER WINERY DOES THAT.
Bunter Spring was licensed in 2008, by Mark Bunter, after working thirty years in the wine cellars, labs, bottling and tasting rooms of people with names like Sebastiani, Mondavi. Winiarski, and Skalli (not to forget Brother Timothy). It all started  in 1977 at Tulocay Winery, just up the hill from Bunter Spring,  on Bill Cadman's infamous all-volunteer weekend bottling line. Mark got interested in winemaking, kept working in wineries, and started making small batches of wine in the family garage. After helping pick scrounged  "second crop" grapes from nearby vineyards for a few vintages, Dad Arnold (Arnie) helped plant a small vineyard on his own property (evidently, owning a vineyard was deemed the lesser of two evils).  Within fifteen short years, Arnie was ready to let Mark start selling the family Syrah instead of just giving it away.  We don't rush things at Bunter Spring.
The family all pitches in. Dad Arnie owns and works in the vineyard, brother Doug runs our Ozarks Marketing Division and mans the tornado early warning station (we're the only Napa winery to have one), sister Tracy is V.P. of Ag Ops at the little vineyard's big garden, and brother Dan is Webmaster and Director of Famous Restaurant Sales.  Brother Mark (not a priest!) makes the wine. They and all their kids and friends also help pick and bottle, or invent amusing excuses why they can't.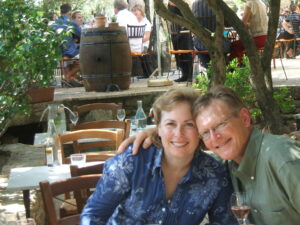 In case you were wondering, there is no spring at Bunter Spring, unless Margaret Spring (Mark's wife) is there.  Most days she's away at her day job at the Monterey Bay Aquarium, as V.P. for Conservation and Science, saving the sea otters.

Thanks for visiting our website!  Sincerely, The Bunters, and The Spring.