The vineyard is in Napa, but we have a Tasting Room  in the Monterey area.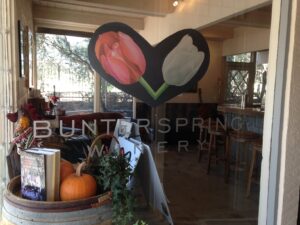 Location:   9 DelFino Place, #102, Carmel Valley Village, CA 93924  
Hours:          10 am-6 pm Thurs-Monday by Appointment
We would love to see you!  Advance reservations are strongly encouraged, since we have limited space and staff and want to be attentive hosts. Since we also have a vineyard to care for and wine to make, our schedule is variable.  We are normally in the tasting room Friday and Saturday 1-6 and Sundays 11-5 and can often accommodate walk-ins, especially wine Club, either immediately or within an hour or so.
Contact Mark  to make a reservation:
Text or call: (202) 744-1343

Yes, that's a Washington, D.C. area code.  Be mindful about what you say on the voicemail!  Actually, the Feds we have to worry about are in Cincinnati.  Go figure.  At least now I know how to spell it.
E-mail:  mark@bunterspringwinery.com
By mail:  Bunter Spring Winery, P.O. Box 10364, Napa, CA 94581