Visitors to the Bunter Spring Winery tasting room often tell us how beautiful our tulip label is and ask why we chose it for our wine.  We usually top up their glass and tell them about our springtime wedding and the thousands of tulips planted the winter before our ceremony by Margaret's brother Justin and their friends – perfectly timed for our wedding day.

---
These tulips first inspired a set of fanciful red and white labels (below) for our wedding wine – designed by Margaret's college friend, Mary Hart.

---

The following year, when we decided to launch Bunter Spring Winery, it seemed entirely natural to to use Mary's beautiful painting on our wine.

---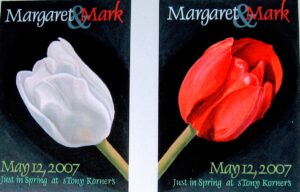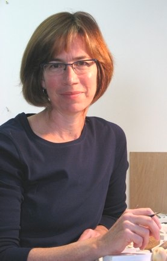 Mary Hart is an accomplished artist who lives in Portland, Maine, and is currently a visiting professor of art at Bowdoin College.  Mary's bio 
We love Mary's work not only because she is our friend, but also because of her deep and enduring connection with the natural world. 
Her philosophy and attention to detail closely reflects our approach to winemaking: creating wines that are the simplest expression of nature and place.  We hope you will take the time to visit her website to see her work and, better yet, visit a gallery where you can see it in person.  Mary's portfolio
Among other locations, Mary's artwork has been exhibited at Aucocisco Gallery in Portland, ME, the Portland Museum of Art, The Trustman Gallery at Simmons College in Boston, MA, and the Dunedin Fine Arts Center in Dunedin, FL. She has received grants to support her work from the Artist Resource Trust and the Maine Arts Commission, and artist residencies at Yaddo, SMCC, and La Dogana in Italy.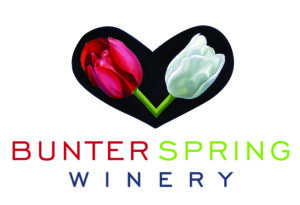 Since launching the winery, we have used different colors for each of our grape varieties and wines:  Red for our Bordeaux-style blends and Cabernets; Yellow for our Chardonnays; White for our Sauvignon Blancs; Orange for our Pinot Noirs; and purple for our Primitivos.  We like the "bouquet" effect as it reminds of the day those tulips came up back in 2007!