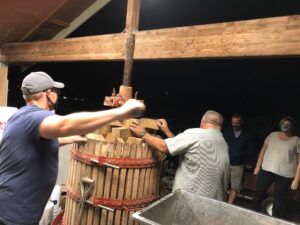 This vintage has been a real bummer.  Bunter Spring lost its Monterey production space when our landlord sold to another winery, the tasting room in Carmel Valley has been closed since March because of Covid, and fires across California ruined much of the state's winegrape harvest, especially in the areas where we work, Napa and Monterey. Fortunately, I guess, the impending loss of our Monterey location caused us to cancel our planned 2020 grape purchases and make no new commitments.  So, at least we avoided having tons of smoke-ruined 2020 fruit to deal with.  We bottled all of the 2018 reds and 2019 whites, and moved the 2019 Pinot Noir barrels up to our little Napa winery.  We were looking for a new central coast home when a series of catastrophic fires started in Monterey County and quickly ended that search.
Our own Napa vineyard was uncertainly affected by smoke from the Hennessey fire in August.  We would have tested the grapes for smoke taint to know whether of not to make wine, but laboratory capacity was so overwhelmed, the $150 test for smoke taint that usually takes three days was backlogged three months!  Then I read that one of the two compounds used as markers to identify smoke taint, guaiacol, occurs naturally in Syrah, at rates many times higher (20-40 parts per billion) than that associated with smoke taint (0.5 ppb).  Syrah is different in many ways, from a winemaker's perspective, and that explains part of it. Our Syrah normally is harvested for red wine in October.  Since we couldn't know how badly our  grapes were tainted, if at all, we decided to harvest early, in September, for rosé.  Our crop was about half of normal.  With our old basket press, yields are low, especially with white and rosé,  as you press the grapes BEFORE fermentation.  We did have major muscle from son Joe and Bro-in-Common-Law Bob to put a serious squeeze on what grapes we got.  We nevertheless  don't have much 2020 to worry about.  Rosé entails minimal skin contact which reduces any smoke taint, and if the wine is bad, you find out soon and dump it early, compared to red wine.  So far the wine seems fine.
A couple weeks after our early harvest, while all our neighbors' cabernet was still far from ripe, the Glass fire started near St. Helena.  It burned part or all of several Napa area wineries to the ground, scorched dozens of vineyards, and the smoke it created ruined any grapes still in the field. So again, I guess we were "lucky".
Any good news we have is NOT from 2020.  There are some promising 2019s coming up.  The sauv blanc and orange wine from Santa Cruz are daring- we harvested earlier than ever before, to get high natural acidity for drinking with shellfish and shrimp.  The sauv blanc is a ringer for Sancerre. Our '19 estate Syrah is perfectly balanced and intensely varietal, again leaning toward a European version of the grape. It will spend another year or so in barrel. Carmel Valley Palisades 2019 pinot noir will be bottled this spring. It reminds me of our 2013 Sonoma Coast pinot.   We made some excellent Monterey reds in 2018: a pinot noir from Carmel valley, another from Santa Lucia Highlands, and some zin, cab sauv, and cab franc from a "sleeper" vineyard hidden in the hills high above Arroyo Seco.  These follow distinctive 17 cab sauv and  cab franc from a fifty year-old organic vineyard in Carmel Valley.  We have plenty of good wine for the short term.  We will need to make some whites in '21 to go with our estate Syrah, and whatever other red grapes we buy.
Going forward, with so much uncertain, we will focus on expanding our estate vineyard in Napa.  Growing your own grapes gives you a lot of control over the quality and style of the wine you make.  You can harvest early if fires require it.  We will choose varieties with a mind to the frequency of drought, unusual spring weather, summer hot spells, and fires.  That means less cabernet sauvignon, which ripens late and makes poor rosé, more grenache, cabernet franc, and whites. The syrah, planted in the early 90s, seemed like a mistake with the ascendancy of Napa cab, but turned out to be accidental genius. Get lucky, adapt, or die!  That's the New Napa.
As a consumer, you should approach 2020 California wines with caution.The cheap central valley grapes were probably OK, so <$10 wine drinkers are cool, as always. Low standard, easy to meet.  There's nothing to burn in the desert, right?  Be careful with more expensive 2020s from the coastal areas.  Except (maybe) our rosé!